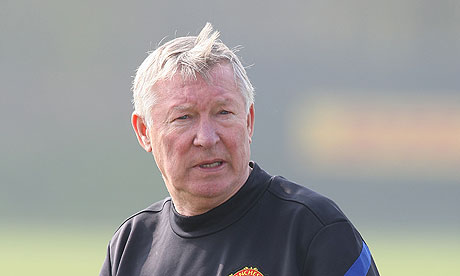 Manchester United's Sir Alex Ferguson during a first-team session at the club's Carrington training ground. Photograph: Matthew Peters/Man Utd via Getty Images
Sir Alex Ferguson has ridiculed Manchester City's U-turn on Carlos Tevez as an act of desperation and warned he has "plenty of ammunition" should United's title rivals challenge him to mind games in the fight for the Premier League.
The Manchester United manager has, by his standards, resisted criticism of Roberto Mancini and his team this season and initially praised his City counterpart's handling of Tevez following the striker's refusal to warm up at Bayern Munich.
Diplomatic relations were spectacularly broken off on Friday, however, over Patrick Vieira's accusation that Paul Scholes's decision to come out of retirement, the sale of Ravel Morrison to West Ham United and the possible departure of Paul Pogba, another highly rated young midfielder, were clear signs of "weakness" at Old Trafford.
United have won eight and drawn one of the nine matches that Scholes has played since the 37-year-old returned to the team in January. Although he dismissed Vieira's comments in jest not anger, Ferguson could not resist mocking City's decision to turn to a player who Mancini had insisted would never play for the club again in their attempt to win a first title in 44 years.
"If it's desperation bringing back the best midfield player in Britain over the last 20 years then I think we can accept that," said the United manager. "I think he [Vieira, now football development executive at City] was programmed for that. I think Roberto had a wee dig a couple of weeks back. We're all going to play our hand that way. I've got plenty of ammunition for that.
"The point he makes about Ravel Morrison and losing our young players – we wanted to sell Ravel Morrison, let's be clear about that, for obvious reasons. But we want Paul Pogba to stay because we think he is going to be a fantastic Manchester United player and hopefully that's the case.
"If you're talking desperation, they were playing a player the other night who refused to go on the pitch and the manager said he'll never play again. He takes a five-month holiday in Argentina. What is that? Could that come under the description 'desperation?' I've got plenty of ammunition, don't worry. They can try."
Asked if he would welcome back a player to United in similar circumstances, Ferguson replied: "Do I need to answer that? No. I don't need to answer that."
Mancini's perceived slight was to claim, after City had beaten Bolton on 3 March, that he would not watch United's game at Tottenham the following day as he was convinced of the result. "I think United will win because they are strong," he said.
Ferguson views that as an attempt to apply pressure on his team – "I think it was but there is nothing wrong with that," he added – but insists he is immune to such tactics having been educated by Jock Stein in the late 1960s. "With four games to go he says: 'Rangers can only throw it away' – and we did!" said the ex-Rangers striker of the former Celtic manager and his mentor with Scotland.
City can return to the Premier League summit with a result at Stoke City on Saturday as United do not play until Fulham visit Old Trafford on Monday. Mancini, who insists Tevez is "not ready to start" at the Britannia Stadium following his influential cameo against Chelsea on Wednesday, admits United's experience of winning titles is an advantage over the remaining nine games.
The City manager said: "It could be normal that we have more pressure maybe than United because United have stayed on the top for 20 years. For them it's easy, for us it's the first time. We were there for seven months. I think we dominate this season, we deserve to win this league, but we know that it will be difficult."
Ferguson, who revealed contract negotiations with Pogba are "getting a bit more positive", unsurprisingly concurred with Mancini's assessment. The United manager said: "I hope it helps and I don't see why it shouldn't help. I think you are better having had the experience of winning the league than not. But we've still got to win our games. We've got nine games over the next few weeks – five at home and four away – and that's the challenge.
"You just have to keep going in these situations, nothing else for it, and that's why the credit should go to the players. They've really dug in, they've shown their resilience and they've produced some really interesting results. Going down to London, playing Tottenham, Arsenal and Chelsea. Really we should have beaten Chelsea but if you take seven points from nine in those three visits in a short space of time it's a job well done."